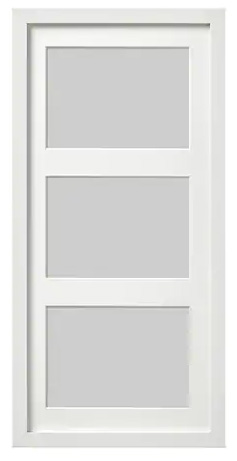 IKEA makes a frame that's remarkably close to the dimensions of the portraits. Ribba is 9″ by 20″, coming with a mat containing three 5″ by 7″ openings. The portraits, being 6.5″ by 18.25″ each, would fit nicely, with enough space on the sides to look intentionally matted.
However, being the sort of person who did not buy a mat cutter way back when he first started framing everything he got his hands on, I got an icky feeling I'd be visiting the Aaron Brothers counter in Michael's sometime soon. I fretted about all the things that could go wrong handing over my precious canvas prints to someone whose attention is divided because they have to spend half their time opening the bathroom for customers who need a place to do their shoplifting in private.
That, and the cost. I'm bent out of shape about paying for custom framing because — well, I'm not sure why. I think it's because my mother's crafty. The garage was always full of hobby and building supplies so anything that could reasonably be designed and made at home was homemade, unless buying it was less expensive than the raw materials. And oftentimes picture frames are, especially the plainer, sleeker styles I gravitate towards.
But in this case, what my heart wanted was something ornate, something that would harmonize with the Mansion's Victorian bric-a-brac. The motifs of the wallpaper throughout the ride are iconic in themselves and I wanted to include that as a mat or background.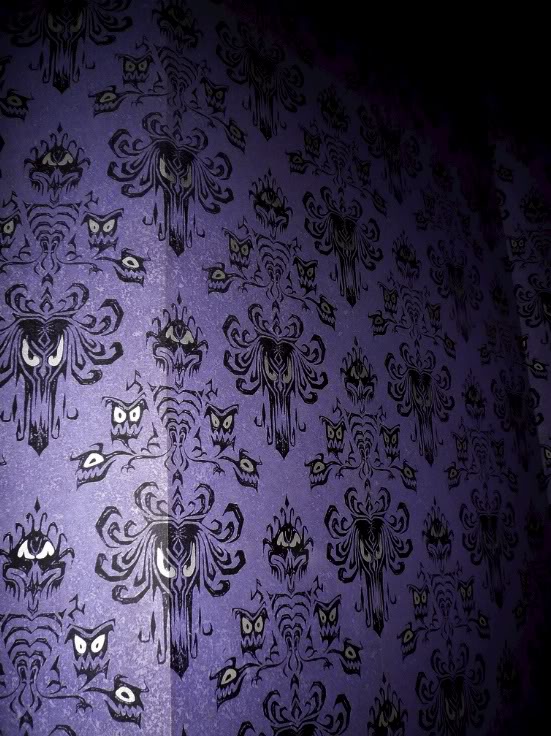 The purple demon eye pattern designed by Imagineers Claude Coats and Rolly Crump is so famous in its own right that merch with that design is sold at all the parks. The floral wallpaper from the Foyer, perfectly rococo, is a real pattern you can still buy.
And in the Stretching Gallery itself, the deep red, green, and yellow striped paper is more than good theming. It pops — looms — out of the darkness. The chunky vertical lines disorient the guest as the room grows longer and the lines converge, creating a sense of, I don't know, some sort of disquieting metamorphosis.
Ask and the internet shall provide — fabric or wallpaper, that pattern can be had. The idea now is to mat the portraits with whatever method I feel will work best, and then wallpaper the mat with the stripes.